June 2014
Sustainability News
Bike to Work Day - Wednesday, June 25
Wednesday, June 25, 6:30-9 a.m. – Carnegie Green
(June 24, 2014) Join thousands of Denver-area workers this Wednesday for Bike to Work Day! Register online and make sure you select University of Denver as your employer. DU is hosting a breakfast station on the Carnegie Green (in front of Anderson Academic Commons); show up between 6:30-9 a.m. for breakfast, a bike tune-up, swag and more!
Farmers Market
Thursday, June 26, 11 a.m.-2 p.m. – Driscoll Green 
(June 17, 2014) Join the Center for Sustainability, the USG Sustainability Committee and the DU Environmental Team for the monthly Farmers Market featuring fresh produce for sale. Occurring the fourth Thursday of each month through October, the Farmers Market brings DU and the Denver community together to foster conversation about the need for sustainable, organic and local food. Cash only and please bring your own bag.
Bike Buddies program
(June 17, 2014) Interested in learning how to bike to work? Let the Transportation Center pair you up with a bike buddy! A bike buddy is an experienced cyclist from the DU community who lives near you and wants to help you learn to get around on a bike. We know that figuring out how to travel by bike brings up a lot of questions: Which roads do I take? What do I wear? What are the rules of the road? How do I carry everything I need for the day? A bike buddy can show you the way and help provide the answers to these questions. Contact Katie Bonomo at du@transolutions.org if you're interested in being paired with a mentor. We're also recruiting mentors! If you're an experienced cyclist and want to share your love of biking to work, contact Katie at du@transolutions.org.
Bike to Work days and activities: It's time to ride!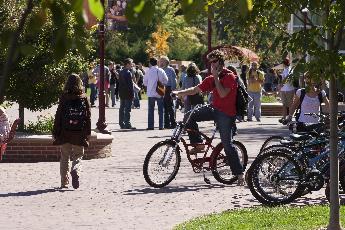 (June 3, 2014) Bicycling to work has a wide range of benefits, and we want to help you bike to work this spring and summer!
Bike to Work Wednesdays: The Center for Sustainability is partnering with well@du to bring you Bike to Work Wednesdays! Wednesdays through June 25, join us for a light breakfast and coffee from 8-9 a.m. More
Learn more and sign up for this and other bike month opportunities online.