May 2014
Sustainability News
Chancellor Coombe signs "Real Food Campus Commitment"
(May 20, 2014) Last week, Chancellor Coombe signed the "Real Food Campus Commitment," pledging the University to buy at least 20 percent real food annually by 2020. 
Learn more about the real food commitment
Farmers' Market
Thursday, May 22, 11 a.m.-2 p.m. – Driscoll Green
(May 13, 2014) Join the Center for Sustainability, the USG Sustainability Committee and the DU Environmental Team for the first of our six-month Farmers' Markets series occurring on the fourth Thursday of every month through October. This kickoff Farmers' Market will feature fresh produce for sale, food trucks and live music. Cash only and please bring your own bag.
Bike to Work days and activities: It's time to ride!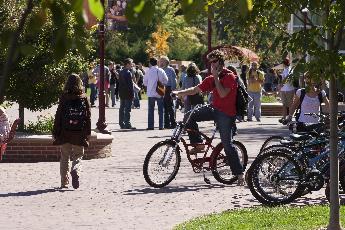 (May 13, 2014) Bicycling to work has a wide range of benefits, and we want to help you bike to work this spring and summer!
Bike Buddies program: If you want to learn how to commute by bike, or if you're an expert bike commuter who wants to help someone else learn, join us on Carnegie Green Wednesday, May 14 at 8:30 a.m. or 4:30 p.m. to learn about the Bike Buddies program.
Bike to Work Wednesdays: The Center for Sustainability is partnering with well@du to bring you Bike to Work Wednesdays! Wednesdays beginning May 21, join us for a light breakfast and coffee from 8-9 a.m. More
Mechanics 101 classes: Our partners at the Bike Depot are offering Mechanics 101 classes in the Piogears Underground bike shop on May 21 and 28. More
Learn more and sign up for these opportunities online.
Campus hydration stations save waste from 1 million water bottles
(May 13, 2014) Hydration stations on the University of Denver campus — water fountains that feature a spout for filling reusable water bottles — have saved waste from a total of more than 1 million disposable plastic water bottles.
Sustainability Awards and Heroes
(May 13, 2014) Do you know any sustainability heroes? Nominate a colleague, alumnus/a, local business or nonprofit, or yourself for the Center for Sustainability's annual sustainability awards. See the nomination criteria below and email your submissions to chad.king@du.edu by Wednesday, May 14 at noon. See last year's award winners.
Sustainability Awards nomination criteria
Campus leadership categories:
Engaging the community (outreach, education and involvement that builds bridges and partnerships)
Innovative practices (highlighting the implementation of methods that maximize sustainable return)
Best new program (sustainable event, practice, system, that is new this academic year; attributed to a person, committee, office, or unit)
Sustainability Heroes nomination criteria
Alumni, business, nonprofit
An important role of the Center for Sustainability is the highlighting of best practices, innovations and leaders in sustainability; those people, units, businesses and nonprofits that inspire others to set and attain new sustainability goals.
Our goal is to showcase the great work and achievements of our alumni, community partners and friends of the University in the area of sustainability. These could be individuals who work directly in sustainability fields, such as renewable energy, sustainable development and business CSOs (Chief Sustainability Officers), or individuals who are infusing sustainability into corporate practices. We want to be inclusive of all areas of sustainability, economic and environmental (which are often highlighted), as well as social sustainability (affecting change around social justice and equity that leads to a more sustainable community).
We plan on highlighting three Sustainability Heroes each spring, one alum, one business and one nonprofit. The Center for Sustainability will award each recipient with a plaque and will feature recipients on our website.
To nominate:
Please send nominations to chad.king@du.edu with subject line "Award Nomination."
Please include:
Name of nominee
Faculty, staff, or student (Sustainability Award)
Alumni, business, or nonprofit partner (Sustainability Hero)
Nomination category
Reason for nomination
Nomination description
CSA (Community Supported Agriculture) vegetable and fruit shares – sign up now!
(May 6, 2014) Looking for fresh, local produce this summer? Want to support Colorado farmers who grow nutritious food using sustainable methods? Looking for an easy way to pick up produce at work? DU's Center for Sustainability, in partnership with well@du, has once again made DU a drop location for CSA shares from Leffler Family Farms and Ela Family Fruit Farms. Learn more about DU's CSA program DU's CSA program (select the "Food" tab) and sign up by May 31!
How Tuesday: How to find a safe bicycling route to DU and how to fix a flat
Tuesday, May 13, noon-1 p.m. – Anderson Academic Commons room 184
(May 6, 2014) Studies show that people who commute by bike are healthier, less stressed and more productive. The weather's getting nicer; it's a great time to give bicycle commuting a try. Come to this session for advice on the safest routes to campus, and learn how to fix a flat so you are ready to keep on rolling. All participants will receive a flat patch kit. Presented by DU bike commuters and the Piogears Underground bike shop.
Bike to Work days and activities: It's time to ride!
(May 6, 2014) Bicycling to work has a wide range of benefits, and we want to help you bike to work this spring and summer! DU is participating in citywide bike to work Wednesdays with a bike buddy program kickoff May 14. Throughout the spring and summer we'll be hosting bike to work breakfasts, participating in the National Bike Challenge and more!